Is your library closed? Book budget running low? Kids acting bored when what they really need is a new book to let their imaginations fly?
Ebooks may be you answer. When you need to stretch your book budget as much as possible, a reading app is a lifesaver, especially if you have a voracious reader.
(Note: this post is not sponsored; it does contain affiliate links)
Epic! is a reading app I have written about before. It's a reading app dedicated to a providing a quality library of children's books for ages 0-12. Epic! offers over 40,000 ebooks, audiobooks, read-to-me books and some educational videos. It is free for teachers and librarians and parents can test drive it free for 30 days.
I've received several requests to recommend my favorite books on the Epic! app, so I did! This book list is HUGE, and it will save you tons of time searching through all the titles on the reading app.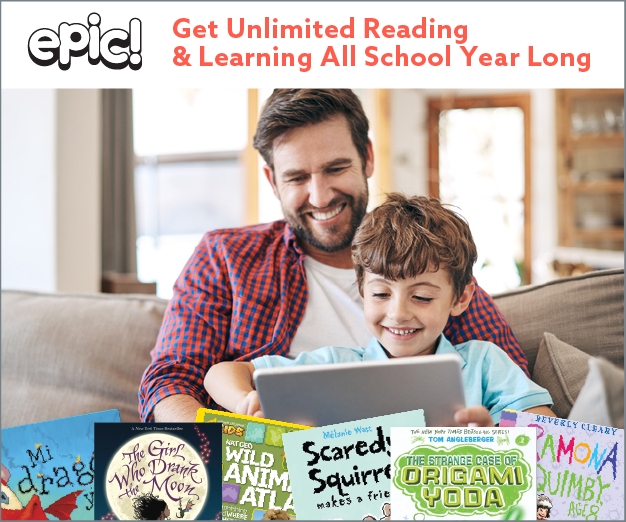 Keep these guidelines in mind:
Honestly, I adore all of the books on this list, but I've included an asterisk next to titles I especially love.
Books are listed in no particular order.
I've left off author names in an effort to get this list to you in a timely fashion.
This is not an exhaustive list. If you don't see the title here, it doesn't mean the book is not worth reading! Keep in mind they have 40,000 titles!
Some of these titles may only be "read-to-me" titles or audiobooks.
If a book shows up on "popular" lists, I probably haven't listed it here because it is already easy to find!
A sure fire way to find more books is to search for the author of the book you just read.
Happy reading!
Picture Books on Epic!
Epic! recommends books by age, so you when searching in the explore feature, set the filter to the desired age group.
A Map into the World
A Sick Day for Amos McGee
Dear Primo: A Letter to My Cousin*
Gittel's Journey
The Cazuela that the Farm Maiden Stirred
Going Down Home with Daddy
We are Grateful*
Sumo Joe*
Morris Micklewhite and the Tangerine Dress
The Princess and the Warrior
A Different Pond*
Ohana Means Family*
Let Them Play*
After the Fall
Kel Gilligan's Daredevil Stunt Show
A Boy Like You*
Jabari Jumps*
Niko Draws a Feeling
Ish
Windblown
They Say Blue
The Imaginary Garden
King for a Day
Willow Finds a Way
The Princess and the Pit Stop
Mister Rodriguez*
Grandpa's Stories*
Small in the City*
I Am Peace
When Adan Becam a Brother*
The Tea Party in the Woods*
Shelter
Another Perfect Day
Hey Water!
The Mermaid and the Shoe
A Moon for Moe and Me*
Dreamers*
Maddi's Fridge
The Artist and Me
How the Queen Found the Perfect Cup of Tea
Wolf in the Snow
Angus and the Ducks*
May I Bring a Friend*
Don't Touch This Book
Have You Seen Elephant
Chicken in the Kitchen*
Wallpaper*
Let Freedom Sing
Buddy and Earl*
I Am So Brave
Ten Birds*
Early Chapter Books and Easy Readers on Epic!
Most of these titles are part of a book series so be sure to explore the author's other works. I have not sorted these titles by reading level. If your child is looking for a particular level, Epic! has a search function just for that purpose.
Easy Readers:
Good Night, Knight*
You Are (Not) Small
Mr. Putty and Tabby
Pug
See Me Play
See Me Run*
Aggie and Ben
You Can Do It
What Am I? Where Am I?
Easy Chapter Books:
Big Foot and Little Foot
Superduper Teddy*
My Heart is Laughing*
Bink and Gollie
Milo and Jazz Myteries
Horrid Henry
Book Uncle and Me*
King and Kayla
Stella Bats
Ramona Quimby
Jasper and Dooley
Martin Bridge
Inspector Flytrap
The Chocolate Touch*
Sherlock Sam
The Polk Street Mysteries
West Meadow Detectives
Detective Gordon: The First Case*
Upstairs Mouse Downstairs Mole
The Princess in Black
Clara Humble
My Father's Dragon*
Katie Woo
Make Way for Dyamonde Daniel*
Rosie Revere and the Raucous Riveters
Like Pickle Juice on a Cookie
Middle Grade on Epic!
Middle grade chapter books are broadly recommended for ages 8 and up. Your child's reading level and interest may be different. Many of the following titles are part of a series for further reading time.
The Parker Inheritance*
A Greyhound of a Girl
The Terrible Two
Yours Sincerely, Giraffe*
Wayside School
Explorer Academy
The Midnight War of Mateo Martinez
Knights and Dinosaurs*
Masterminds
A Boy Named Queen
Frank Einstein
Ella Enchanted
Bridge to Terabithia*
Catching a Storyfish
Zinnia and the Bees
Finding Langston*
Last of the Name
Ungifted
The Not-Just Anybody Family *
The Cheshire Cheese Cat*
Fake Mustache
Strawberry Girl
Mother West Wind's Animal Friends
Soldier Bear
Susan Marcus Bends the Rules
Swallows and Amazons
MC Higgins the Great *
IQ: Independence Hall
Inside Out and Back Again*
Heart of a Samurai*
Peter Nimble and the Fantastic Eyes
Sophie Quire and the Last Storyguard
The Abominables
The Ice Sea Pirates
Jake and Lily*
Greenglass House*
It Ain't So Awful Falafal*
The Island of Beyond
Ahimsa*
The Flight of Swans
The Breadwinner*
Sweep: A Story of a Girl and Her Monster
The Girl Who Drank the Moon
Wicked Nix
Graphic Novels and Comics
Graphic novels and comics are absolutely worth reading! I've included primarily non-licensed titles here. Your child can also find characters like Garfield and Peanuts in abundance!
Tiger vs. Nightmare*
El Deafo
Guinea Pig Private Eye*
Lumberjanes
Arthur and the Golden Rope*
Rutabaga the Adventure Chef
Wallace the Brave*
Hilda and the Troll*
Breaking Cat News*
Phoebe and Her Unicorn
Nathan Hale's Hazardous Tales
Hereville*
Audiobooks on Epic!
Note that your children may also find these titles as reading books rather than audiobooks. I've included both picture books and chapter books here.
Picture Books:
The Happy Owls*
The Happy Lion
Crow Boy
The Word Collector*
All the Colors of the Earth
Who's in Rabbit's House*
Extra Yarn
The Three Robbers
Lon Po Po
Come On Rain
Zen Ghosts*
This is the Rope*
Petunia
Peter's Chair
Novels:
Upside-Down Magic
Arf *
The Strange Case of Origami Yoda
The Invention of Hugo Cabret*
What the Dickens
A Snicker of Magic
The Children of Green Knowe
The Saturdays*
Gone-Away Lake
All Of A Kind Family
Miranda the Great
My Teacher Fried My Brains
Arabel and Mortimer
Ruff vs. Fluff
Emmy and the Incredible Shrinking Rat*
The Lost Kingdom
Mark of the Theif
Esperanza Rising
Dash
Honey
A Snicker of Magic
Once Upon a Marigold*
The Witch Family
Poetry
Don't forget poetry as part of your child's literary education! In addition to these books you can search for poets like "William Shakespeare" or "Maya Angelou."
Lion of the Sky
Can I Touch Your Hair?*
Yes, We Are Latinos!
Words with Wings
Cool Melons Turn to Frogs*
Nonsense Poems*
Miguel's Brave Knight
The Owl and the Pussycat
Afternoon on a Hill
How to Eat a Poem
If It Rains Pancakes
Ode to a Commode
Everything is a Poem
Dictionary for a Better World
Nonfiction
Epic! has an enormous amount of nonfiction books. The jewel in the crown is their collection of National Geographic books. I haven't listed many here because I simply haven't read many of the others, but of course your child can search by subject.
National Geographic books
Winged Wonders
Separate is Never Equal*
Explore Spring!
The Moon Book by Gail Gibbons
Earthrise*
Rocket to the Moon*
Sea Otter Heroes*
Flying Deep
Biographies
I was quite impressed with the range of picture book biographies in the Epic! library. Here are a few I recommend that are well-written and have great illustrations, and you will find many others.
Rebel Girls (series)
The Right Word: Roget and His Thesauraus*
Before She Was Harriet*
Frida Kahlo and Her Animalitos
Trombone Shorty*
Counting on Katherine*
The Book Itch
Basketball Belles
The Boo-Boos That Changed the World
Diego Rivera: His World and Ours
Hiawatha the Peacemaker
Richard Wright and the Library Card
Esquivel: Space Age Sound Artist
Ruth Bader Ginsberg: The Case of RBG vs. Inequality*
The Amazing Age of John Roy Lynch
Whoosh!: Lonnie Johnson's Super-Soaking Stream of Inventions*
What to Do about Alice?
To repeat myself, this is by no means a comprehensive list of all the reading choices on the Epic! app. You and your children will find many others. The search function doesn't always bring up every book you may enjoy, but the suggested titles at the end of each book will also aid you in your search.
And remember, you can always try out Epic! free for 30 days!
Happy reading!